Jet Oven for Industrial Use
The Jet Oven is also active in industrial contexts!

Examples of Foods in Industrial Production
The Jet Oven is also active as a manufacturing device for industrial use at food factories and other industrial manufacturing facilities. For example, many of the products described below, with which a lot of us are very familiar, are cooked using the Jet Oven.
Pizza Dough and Naan Bread
The Jet Oven first became widely used in Japan for cooking pizza. A forte of the conveyor-style Jet Oven is its ability to cook larger food items, including pizza dough either with or without a topping. The bigger the naan bread, the better it tastes, and you can leave the job of cooking naan to the Jet Oven, too. The Jet Oven is also active in food factories due to its speed and uniformity of cooking finish.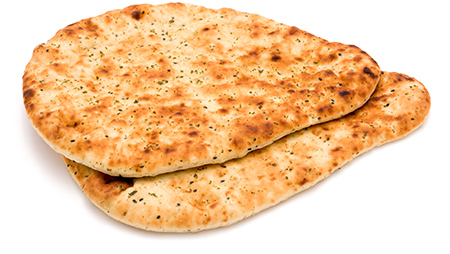 Cooking and Drying of Delicacies and Snacks
In factories that manufacture delicacies and snacks, the Jet Oven is being employed instead of direct gas-fired ovens as a valuable asset for improving quality and productivity. It cooks to a uniform finish by applying heat quickly and constantly, thereby sealing in the food's flavor. Foods such as squid, which are prone to warping when heated, are cooked while being held to the conveyor with a net. The Jet Oven is also effective for drying and adjusting moisture levels in dried foods such as ago dashi.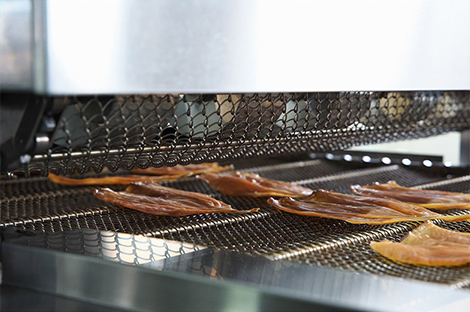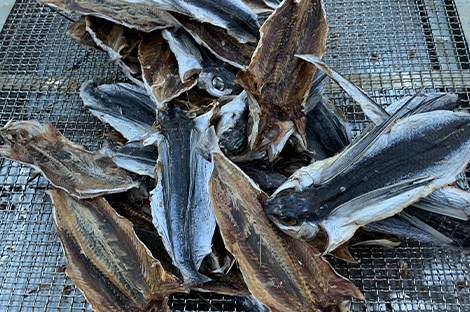 〈Recommended Optional Extras〉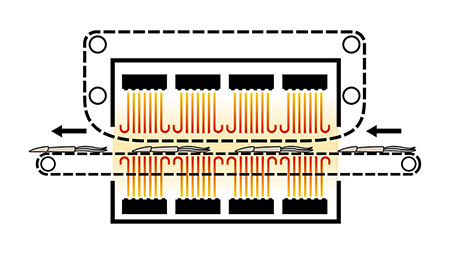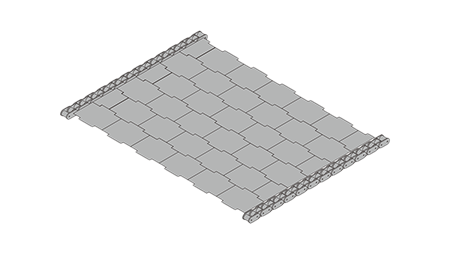 Drying and Baking Pet Food (Animal Feed Pellets)
As the population of Japan shrinks, one market that is on the increase is the one for pet food. The Jet Oven is highly rated for its fast-drying times and uniform cooking finish, and is used in pet food factories for drying animal feed. In this way, it is sustaining food for animals as well as people.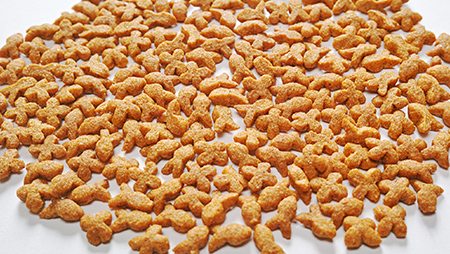 Processing and Drying Industrial Products
The fields in which the Jet Oven is being used are expanding more and more. Capitalizing on the merits of being able to uniformly heat all parts of an ingredient or raw material as it moves along its conveyor, the Jet Oven is being used by our customers to dry coating materials and parts used in metalworking, and in the surface strengthening process for cardboard and paper.
〈Recommended Optional Extras〉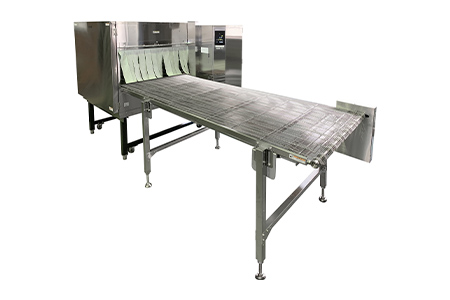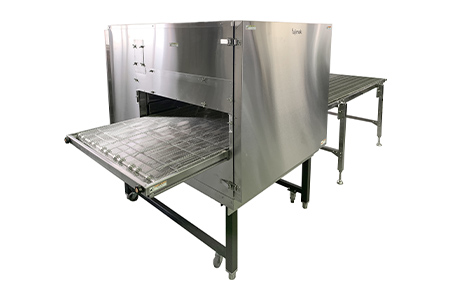 Grilling French Toast and Sugar Toast
French toast is a staple of breakfast menus at hotels and cafés. Its golden brown color and fluffy texture when eaten are essential elements. However, if the heat is incorrectly controlled, that golden brown color becomes a burnt black, ruining its appearance, which can spoil its value as a product. Because both cooking times and the speed of the heated air being propelled from the finger nozzles can be precisely controlled, the Jet Oven is also suitable for cooking dishes like French toast, which require very subtle changes in the level of heat. Even in kitchens that require the preparation of a large number of freshly cooked dishes in a short space of time--for example, with a breakfast buffet--the Jet Oven, with its ability to cook at high speed, is an essential piece of equipment.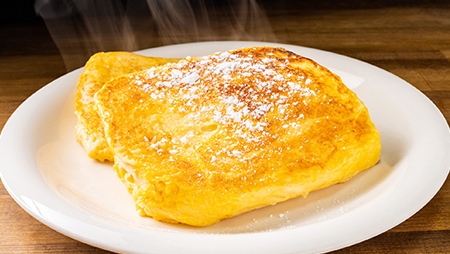 〈Recommended Optional Extras〉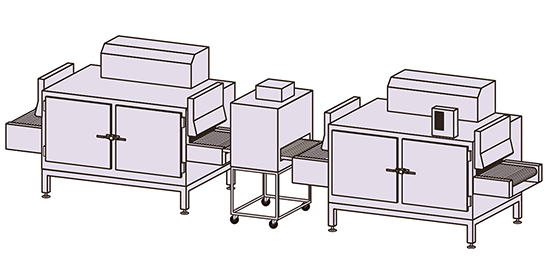 Drying Snack Confectionery, Rice Cakes, and Rice Crackers
The Jet Oven is active not just in the manufacturing of Western-style confectionery but in factories that manufacture snacks and Japanese sweets. For example, it is used to cook rice crackers, a distinctive feature of which is their crunchy texture. By heating quickly from above and below, the Jet Oven realizes a flavor that is just as delicious as when rice crackers are cooked by hand. It is also used for such things as drying arare rice cakes after they have been roasted.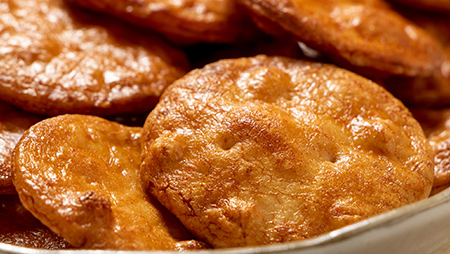 Cooking Cereals and Granola
Cereal is made by processing natural grains such as corn, barley, and brown rice after they have been baked, while granola is a baked mixture of grains, nuts, syrup, and vegetable oil. Both are attracting attention as health foods that enable the easy intake of vitamins, minerals, and dietary fiber. With the Jet Oven, it is possible to cook these kinds of cereals evenly, with a uniform finish, and in large quantities.
Roasting Nuts (Almonds, Peanuts, etc.)
The Jet Oven is also suitable for roasting nuts, which require a crunchy texture and taste. Because individual nuts are small, roasting them uniformly has always been considered difficult. But by using the Jet Oven to cook nuts with heated air from above and below, it is possible to roast them evenly and quickly.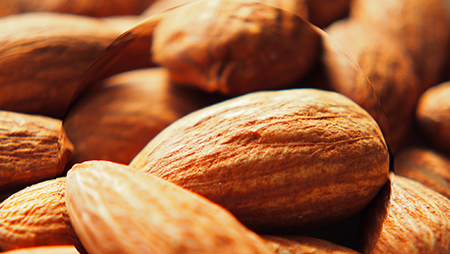 Kabutoyaki

(Baked Head of Tuna)

Baking the head of a tuna and serving it whole on a platter makes for a dynamic presentation. The Jet Oven economically propels heated air onto foods from above and below with little or no wastage, so it is not necessary to divide the tuna head in half when cooking. This makes it possible to create a delicious kabutoyaki in its original, awe-inspiring form.
Baked Olives
Baked olives have a concentrated flavor that more and more people are enjoying as an accompaniment to wine, beer, and so on. The Jet Oven makes baked olives with a rich, nuanced flavor, in a short time and without losing their shape.
Examples of Specialized Designs
We can provide various options and bespoke specifications with the Jet Oven. The following are descriptions of some of those examples.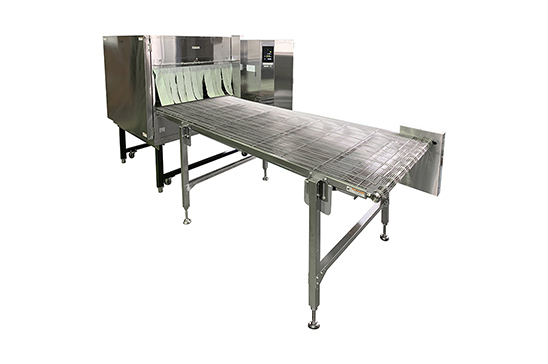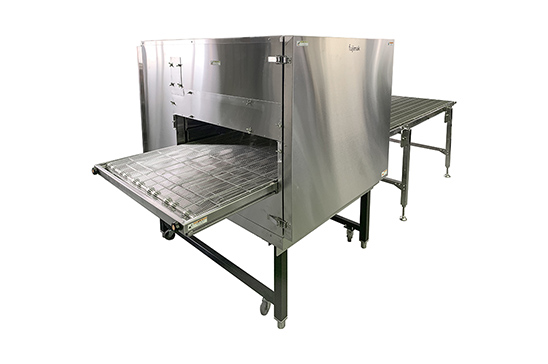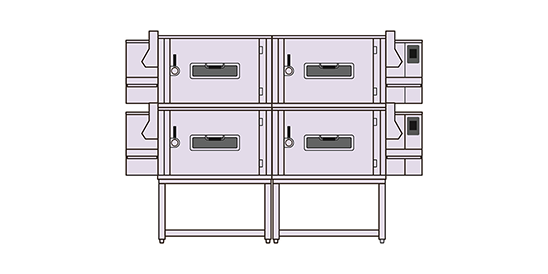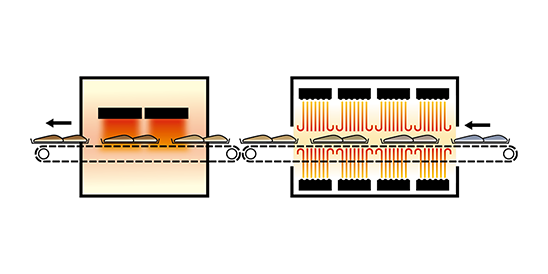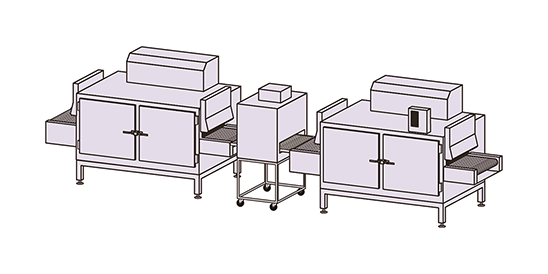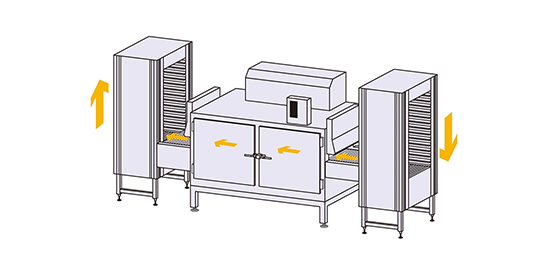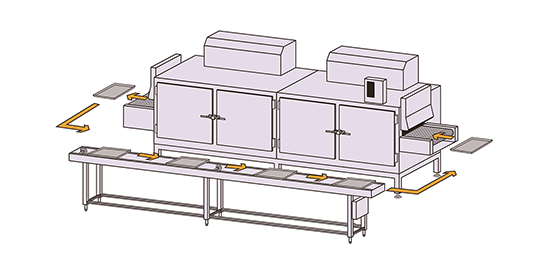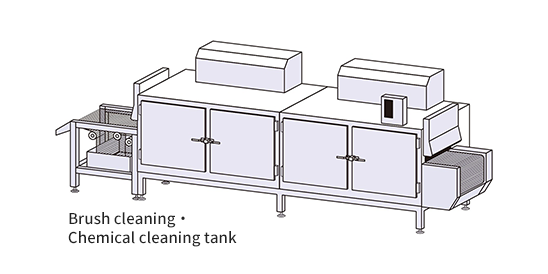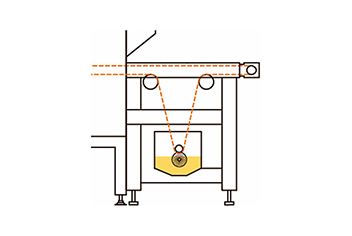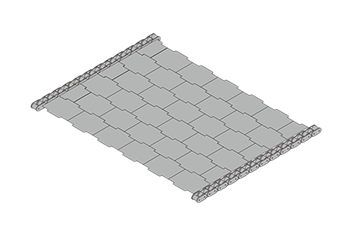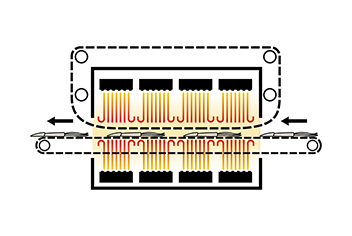 Jet Oven for Industrial Use
Customer Example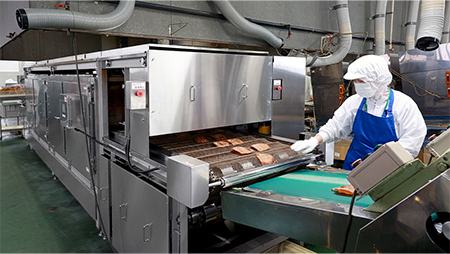 Inoue Shokuhin Co., Ltd.
Introduction of the Jet Oven for manufacturing
otsumami

(Japanese-style snacks) with high added value

Inoue Shokuhin, which is based in Kobe, introduced the Jet Oven to manufacture otsumami. While reducing cooking times by about half compared with before, the Jet Oven is realizing stabilized quality thanks to its uniform cooking finish.
A More In-Depth Introduction
to the Attractions of the Jet Oven
Inquiries relating to this product
For queries and consultations relating to the Jet Oven,
please use the online form.