Case

Inoue Shokuhin Co., Ltd.
Introduction of the Jet Oven to Manufacture Snacks
with High Added Value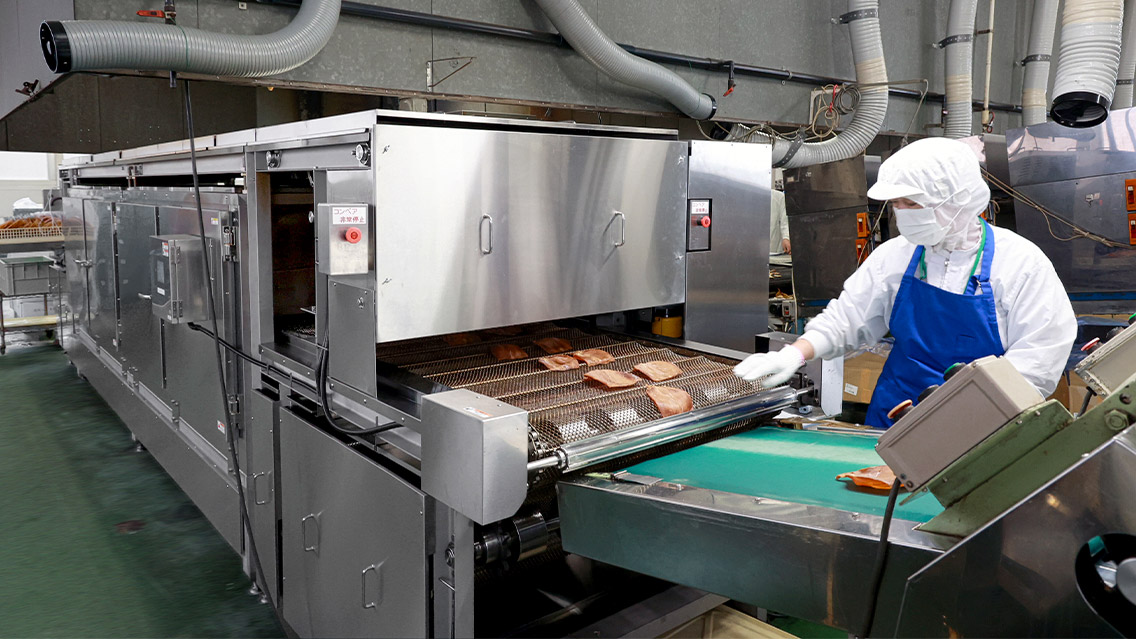 The Jet Oven in action producing otsumami snacks. Inoue Shokuhin is using the Long Series two-module model (FGJOA50NR).
Fujimak's Jet Ovens are being utilized not just in restaurant kitchens but in food factories where high-quantity cooking is a prerequisite. Inoue Shokuhin, which is based in Kobe, introduced our Jet Ovens for the production of otsumami (Japanese-style snacks). This reduced cooking times by about 50% compared to before and realized stabilization in quality by providing a uniform cooking finish.
Introduction of the Jet Oven for the Manufacture of Flagship Products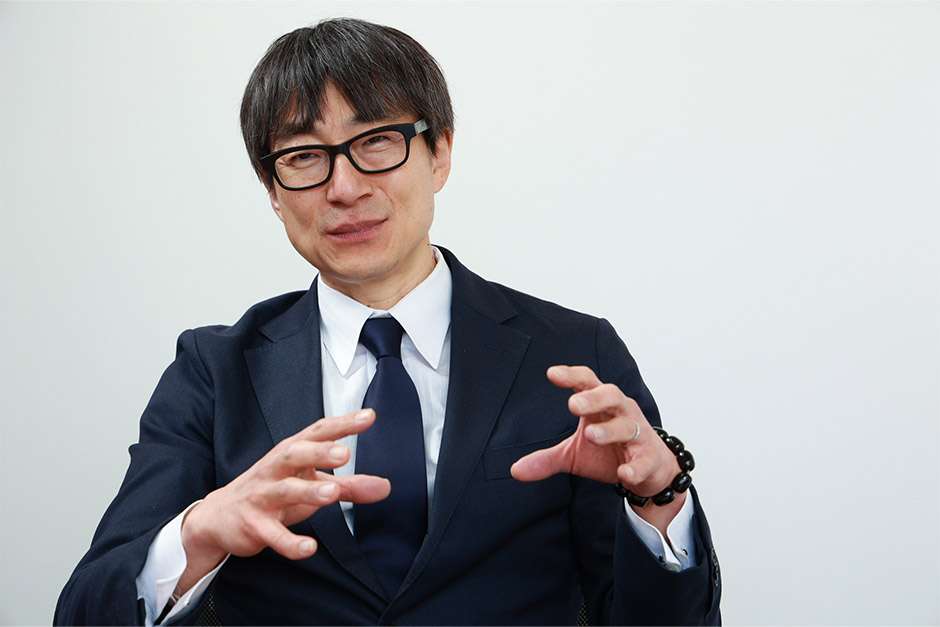 Mr. Junya Inoue, President and CEO of Inoue Shokuhin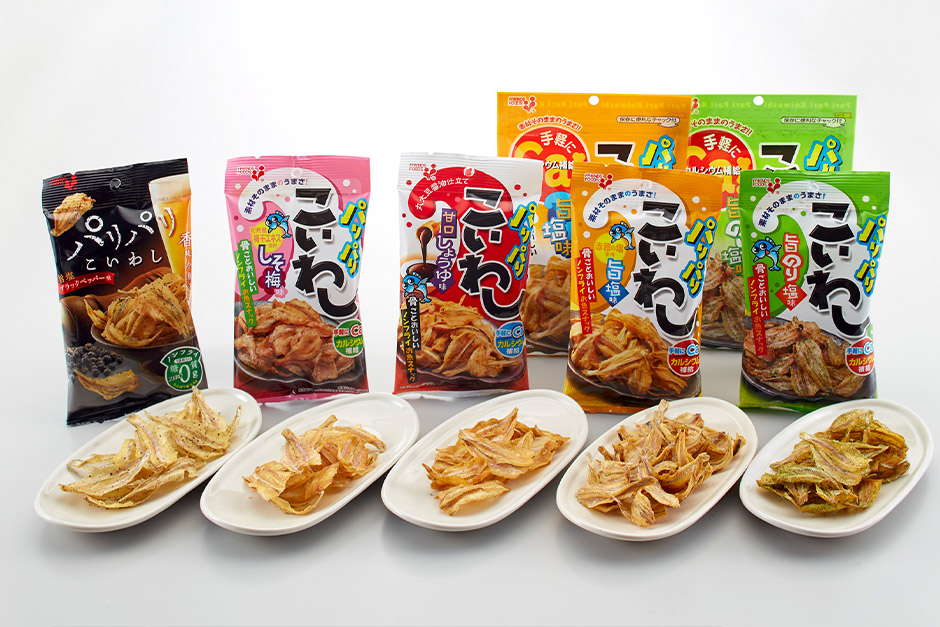 The

Paripari Koiwashi

(Crispy Small Sardines) series
Through their otsumami products, Inoue Shokuhin sets the stage for families to join together and for people to communicate. Inoue Shokuhin was founded in Kobe in 1946 and based on this philosophy, it is a food manufacturer that produces highly original snacks, delicacies, and more. As Mr. Junya Inoue, President and CEO, explains, "Otsumami are an indulgence that can be enjoyed by adults with a drink and by children as a treat. Precisely because they are an indulgence, added value is essential. As, of course, are safety and peace of mind. We import our own high-quality ingredients, and we are working on the development and manufacture of products that no other company can match."
One of Inoue Shokuhin's many popular products is the Paripari Koiwashi series, which introduces the simplicity and familiarity of potato chips to the world of otsumami, and has acquired a broad range of fans, from adults who enjoy a drink to children who enjoy a treat. As the name implies, this otsumami consists of small sardines that are easy to eat with your fingers and baked until crispy for a snack-like feel. Along with Umami Salt flavor, which received the Minister of Agriculture, Forestry and Fisheries Award at the Zensui Kakoren contest for product quality in 2012, other flavors include Sweet Soy Sauce, Nori Seaweed & Salt, Shiso (Japanese basil) & Plum, and Umami Salt & Black Pepper.
In 2018, Inoue Shokuhin introduced fujimak's Jet Oven (FGJOA50NR) as the production line for the Paripari Koiwashi series at its West Kobe factory, which is on the same site as the company's head office. This was to replace its previous direct gas-fired ovens, with the aim of improving production efficiency and stabilizing quality.
"We took our ingredients to fujimak's test kitchen and undertook repeated testing and verification until we were completely satisfied. We talked with fujimak in detail about our queries and requests, and their response included the development of custom-made parts." (Mr. Inoue)
One of the parts that fujimak suggested for use in manufacture at Inoue Shokuhin was the conveyor net, which was developed to enable the cooking even of smaller food items. It was thought that small sardines may fall through a standard conveyor net, so changes were made to the standard shape and the net that is now fitted to Inoue Shokuhin's Jet Oven has gaps of just 7 mm.
"Fujimak did not pressure us into investing in functionality that may have cost excessive amounts of money. Rather, we were very happy with their proposals, which were reasonably priced and fitted our needs." (Mr. Inoue)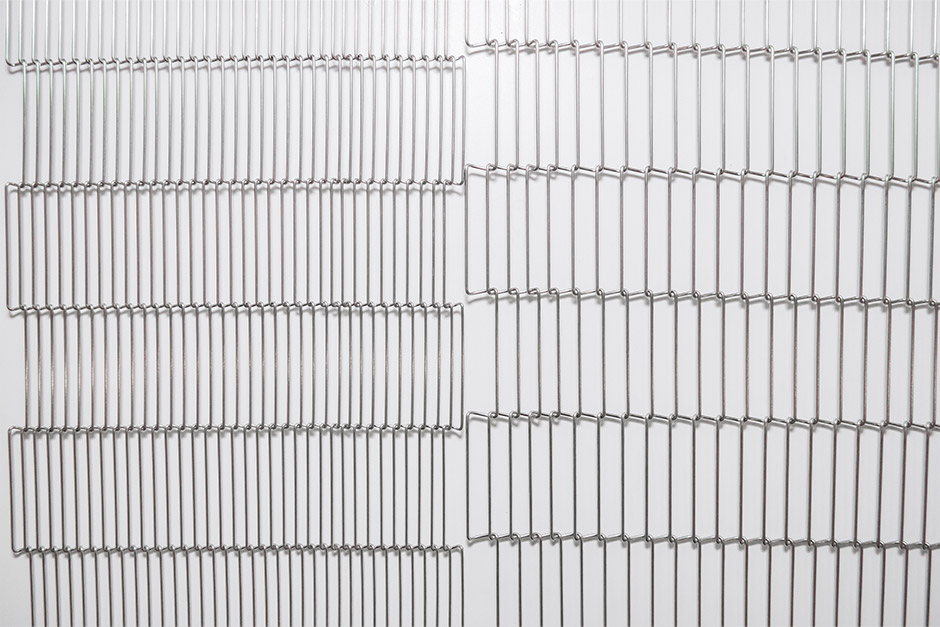 A conveyor net (above left) is employed whose fine gaps have a maximum diameter of 7 mm, so that smaller ingredients do not fall through the conveyor.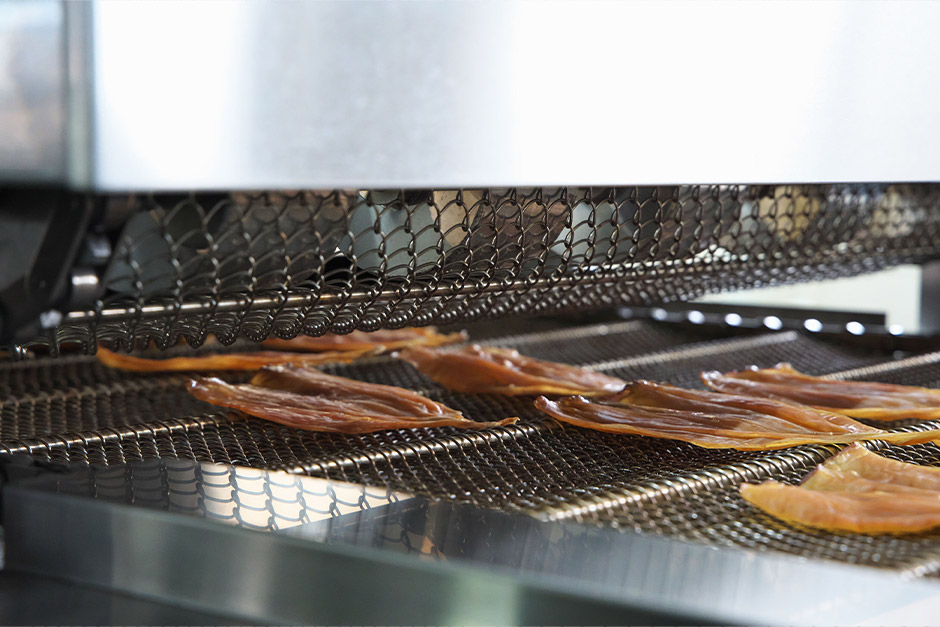 The Jet Oven is fitted with a conveyor that holds down these Japanese flying squid from above with a net, thereby preventing them from warping in the heat.
The Jet Oven propels jets of hot air from both above and below to cook food items efficiently. Thanks to the introduction of the Jet Oven, cooking times for Paripari Koiwashi were reduced by around 50% compared with before. Furthermore, as CEO Inoue says, "With the oven that we previously used, there were incidences of uneven heating, when it was necessary to pass insufficiently heated food items through the oven a second time. With the Jet Oven, regardless of where food items are placed on the conveyor, quality is stabilized because they are all uniformly cooked. A selling point of our products is that there is no variation in the high quality of each and every one, so this is a big plus."
At present, besides the Paripari Koiwashi series, other otsumami such as Japanese flying squid are also being cooked in the Jet Oven.
Combining Two Production Lines in One with the Jet Oven
Inoue Shokuhin has seen for itself the results of more efficient production and stabilization of quality thanks to the Jet Oven, and in 2021, it began reexamining two production lines used for a different group of products. "Thanks to fujimak, our factory continues to operate at maximum capacity. However, the otsumami industry is not immune to labor shortages. While responding to existing orders with a limited number of personnel, we decided to establish production capability that would further expand our range of products." (Mr. Inoue)
Specifically, the heating of otsumami, which until then had been undertaken on two production lines of direct gas-fired ovens, was changed to a one production line setup. This enabled Inoue Shokuhin to secure greater production capability than with the former, two-line equivalent. The new oven chosen for this change to a more proactive production system was the Jet Oven (FGJOA50NR), which was the second they had introduced.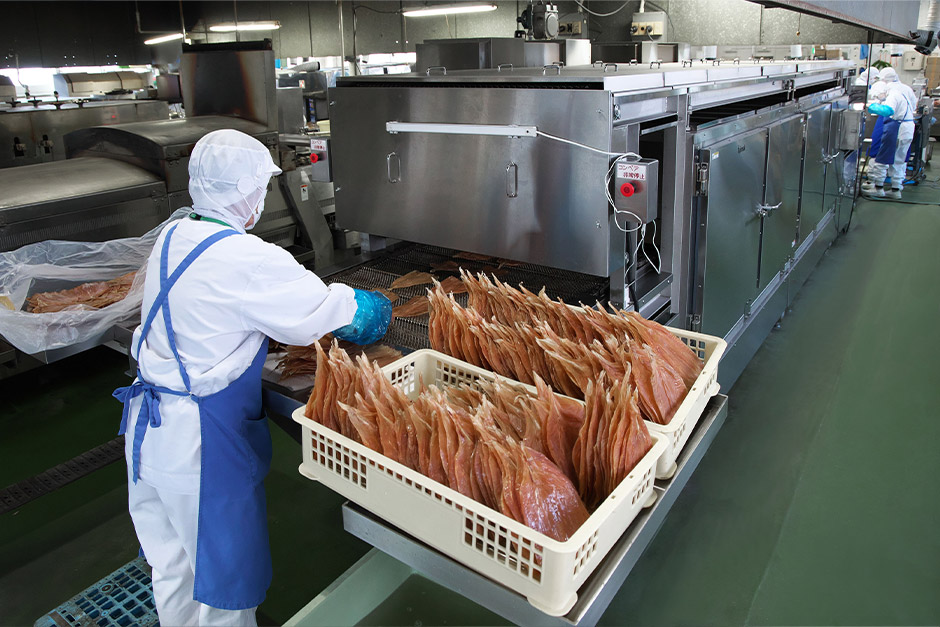 Fujimak Jet Ovens are now responsible for cooking more than 70% of the otsumami products that Inoue Shokuhin manufactures.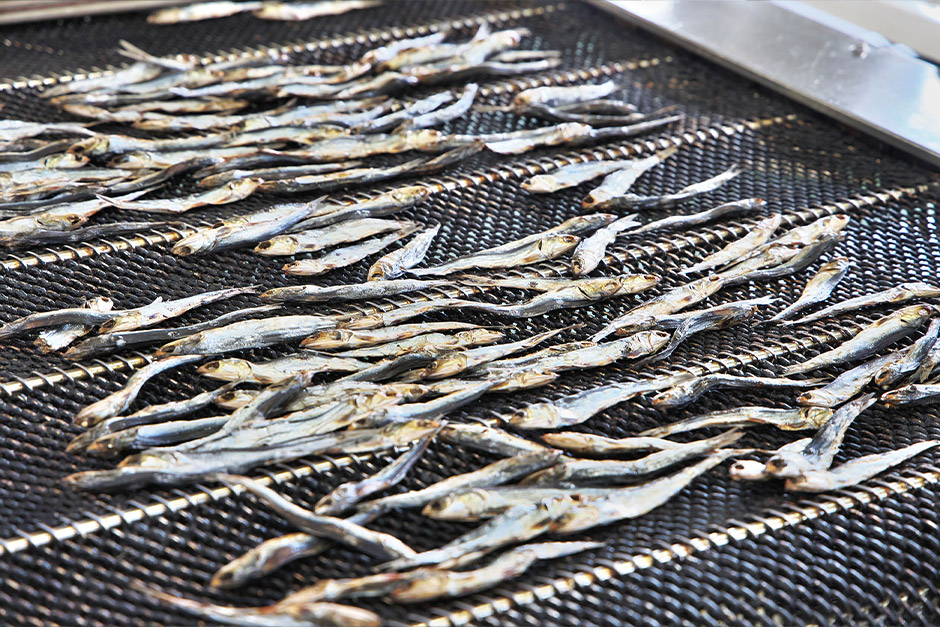 Sardines being cooked. The end result is aromatic and crispy.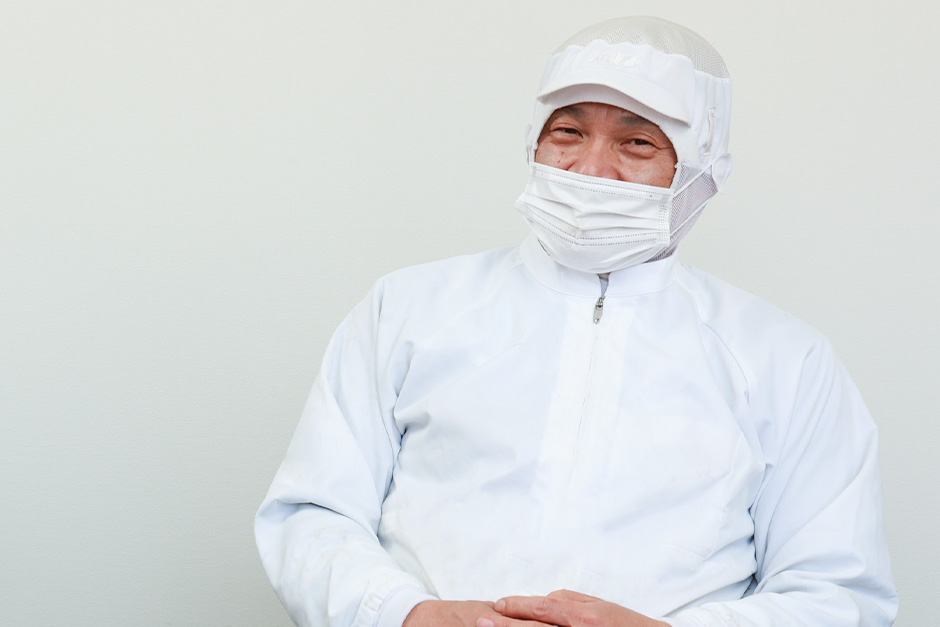 Mr.Hideaki Miura, Section Manager, Inoue Shokuhin Manufacturing Department
Mr. Hideaki Miura, Section Manager of the Manufacturing Department, was in charge of conducting the production line change on-site. This is how he describes the superior cooking capabilities of the second Jet Oven (FGJOA50NR), which began operating in the fall of 2021.
"As much as anything else, it cooks very quickly. Cooking times are half of what they used to be. This may be a slightly exaggerated way of putting it, but it feels as if the foods have finished cooking and emerged at the other end of the machine almost the moment they enter it. We really can cook on one production line what we used to cook on two."
Mr. Miura also listed three transformations that have been brought about by installing Jet Ovens at the factory.
"With our previous cooking methods, we were obliged to rely on the instincts and experience of our most skilled staff, but with the Jet Oven, by setting the temperature and time, even staff with relatively little experience can cook food items evenly at the push of a button. It has therefore become possible to have capable staff at an early stage. Secondly, as CEO Inoue said, because we can cook food items uniformly, the number of times that we have to pass them through the oven again has reduced and our production efficiency has improved. And because there is now just one production line, we have secured more space for storing the ingredients that are fed into that line. The length of the space in which the Jet Oven is installed is one production line shorter than before. It really can't be said that our factory is big, so this newly created space is very valuable. The line along which work takes place when the production line is in operation is shorter and productivity has increased."
"Fujimak is also a reliable source of information." (Mr. Inoue)
If small businesses, small business operators, and medium-sized enterprises apply to the minister with jurisdiction over the business in question by describing the initiatives they are implementing--through such measures as personnel training, financial management, investment in facilities, and so on--in an operational capability improvement plan, and if that plan is approved, it is possible for them to take advantage of the SME business capabilities enhancement tax system for strengthening management in small and medium enterprises (immediate depreciation, etc.), and to receive various kinds of financial support. Thanks to such measures as aiming to improve productivity with its investment in facilities--a focal point of which was the introduction of Jet Ovens for industrial use--Inoue Shokuhin was subject to these benefits.* Through drawing up the necessary documentation for the application (Certificate of Requirements for Improving Productivity in relation to Facilities for Enhancing Business Capabilities based on Laws to Strengthen Operations in SMEs, etc., and in relation to Cutting-edge Facilities based on Laws for Special Deductions for Improving Productivity), fujimak assisted Inoue Shokuhin in utilizing that tax system.
*Availability and content of tax systems and support varies depending on the time period. Furthermore, please be aware that not all cases involving the introduction of such equipment are approved.
At the conclusion of our interview with Mr. Inoue and Mr. Miura, they praised the response of fujimak's representatives. This is what Mr. Inoue had to say.
"Fujimak have an extensive lineup of products, not just devices aimed at food factories but also those for use in kitchens. Because they are developing a variety of devices necessary for working efficiently in limited kitchen spaces, if you ask them, "Do you have something like this?" in many cases, they will already have the necessary device to fulfill that request. We think of fujimak not just as trade partners but as a source of information for improving productivity."
Mr. Miura praised fujimak, saying, "Their sales representatives work very hard for us." He also commented, "Our productivity has definitely improved with the introduction of the Jet Oven, but we are still not satisfied. While developing new food products, we would like to consult fujimak on various matters in order to further improve productivity."
Fujimak will make every effort to be of use to Inoue Shokuhin so that it can continue to deliver its appealing otsumami to consumers.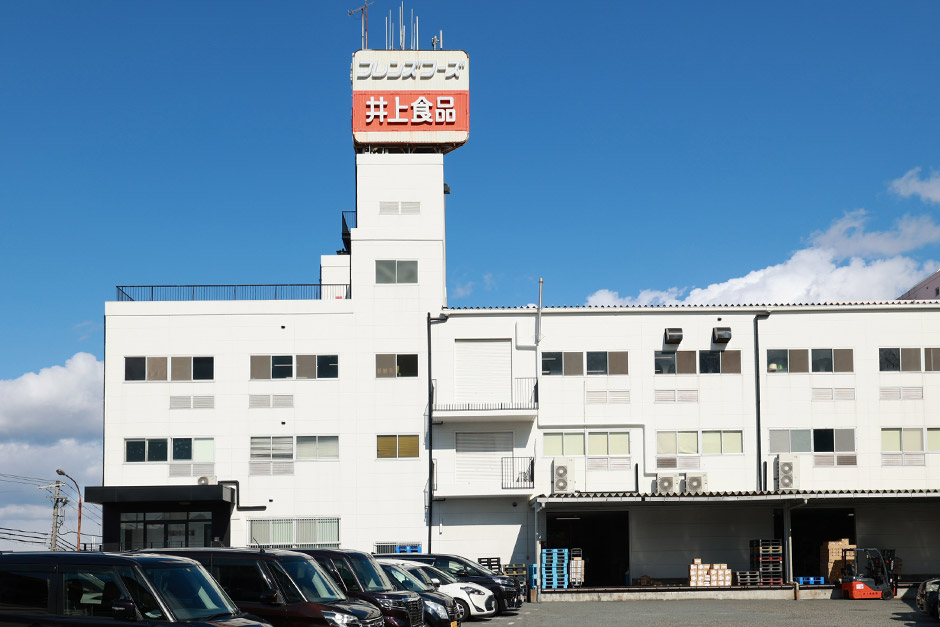 Company name
Inoue Shokuhin Co., Ltd.
Location
of head office
13-banchi 9, Ikegami 1-Chome, Nishi-ku, Kobe City
Tel.
+81-78-974-1111
Established
1946 (incorporated: 1952)
Business
manufacture and sale of otsumami, delicacies, tsukudani, and frozen foods for business use; import and sale of fisheries products.
Website
https://inoueshokuhin.com/