Custom Made Teppanyaki Griddle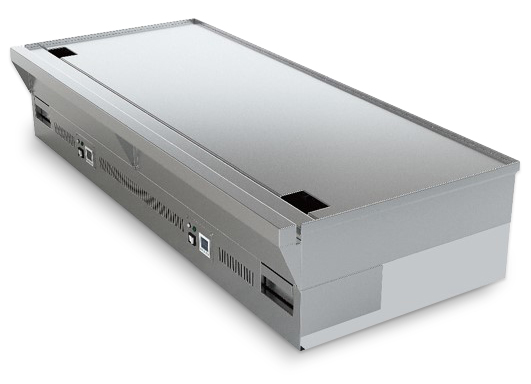 Various models available according to use
Teppanyaki griddles are griddles that have been specialized for preparing steaks. The arrangement and length of the heating elements on Fujimak's custom teppanyaki griddles make it possible to customize the heating area. This gives users complete freedom to customize the griddle to their liking. We recommend this product as a versatile cooking appliance that can be used not only to fry hamburgers, seafood, vegetables, and a variety of other foods but also to toast bun surfaces and warm sauces.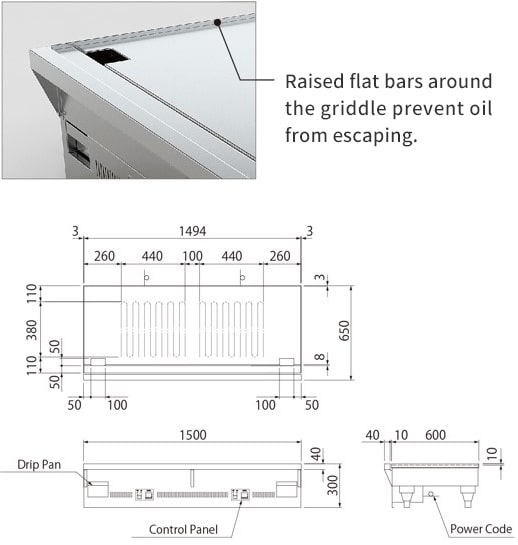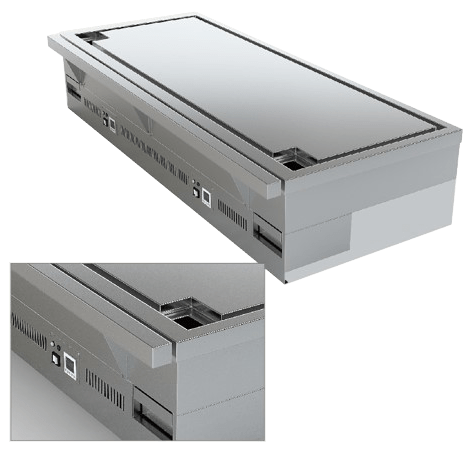 A stainless steel plate surrounding the griddle prevents heat conduction from heating the surrounding area.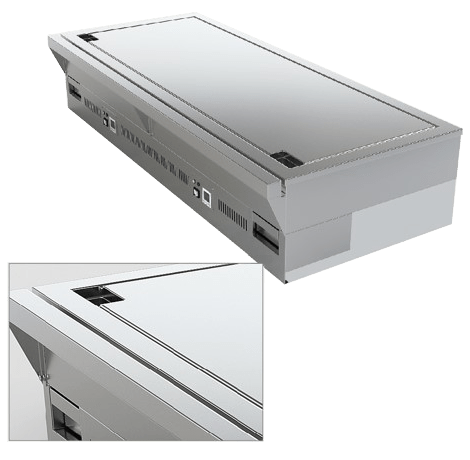 The entire top plate surface is made of steel. Because the surface is flat, grooves have been incorporated around the plate to prevent oil leakage.
Teppanyaki counter ideal for open kitchens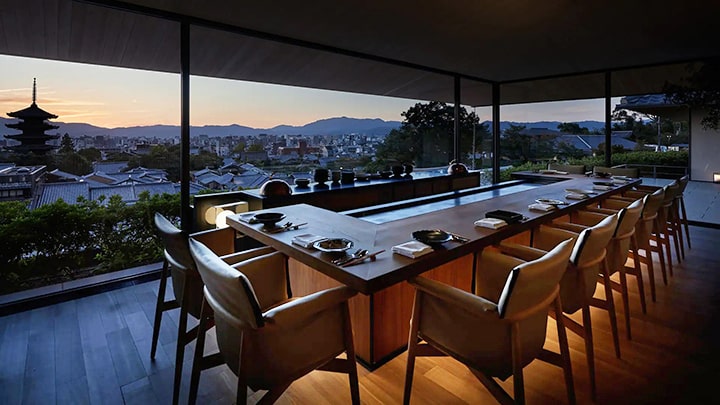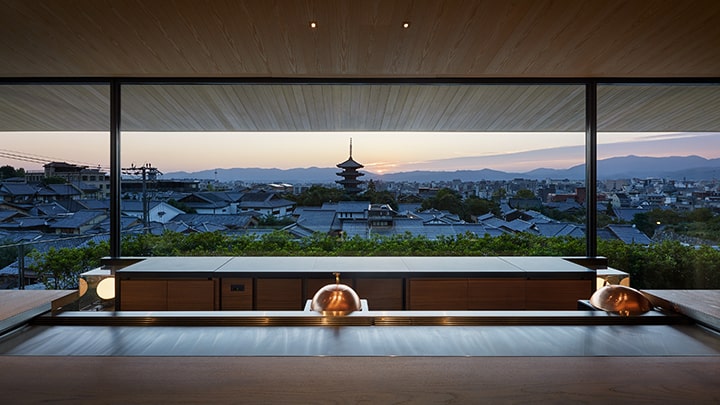 Teppanyaki griddle without ventilation hood that matches the design-oriented restaurant interior.
Yasaka - Signature Restaurant, Park Hyatt Kyoto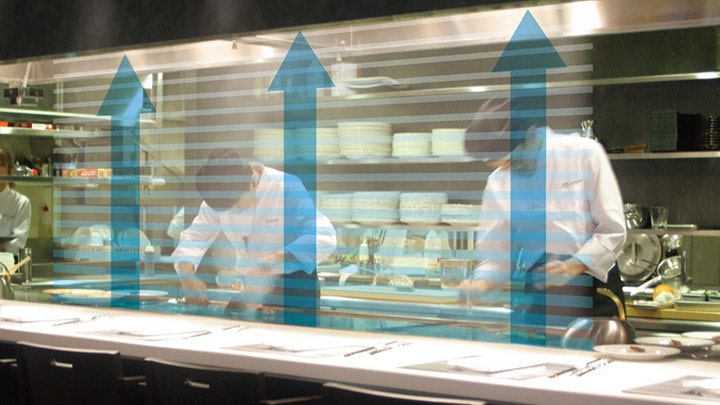 A teppanyaki counter in an open kitchen is a very effective presentation element in restaurants. To prevent smoke and odors from spreading to the seating area during cooking, an airflow fan can be integrated into the teppanyaki counter to create a comfortable space at all times.
We can also produce custom-made teppanyaki counters to meet your requirements for shape, thickness, etc., to suit your kitchen.
─ Fujimak Custom Made Teppanyaki Griddle ─ Customized Case
Griddle with ducts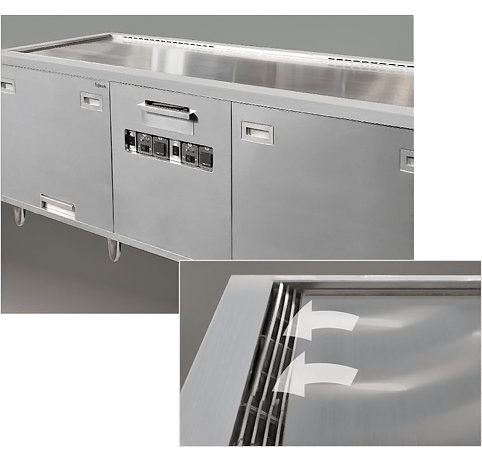 The griddle is designed for installation in restaurants that do not have ceiling exhaust ducts by integrating ducts into the chassis of the product and incorporating ventilation features. The design ensures quiet operation by location the suction fan several meters away. A silent-type motor is also used to transport air, ensuring a pleasant, quiet experience for customers.
In the unlikely event of a fire in the ducts, a built-in automatic fire extinguishing device can extinguish it immediately. This product is installed in hotels and other establishments where food is prepared in front of customers.
Custom design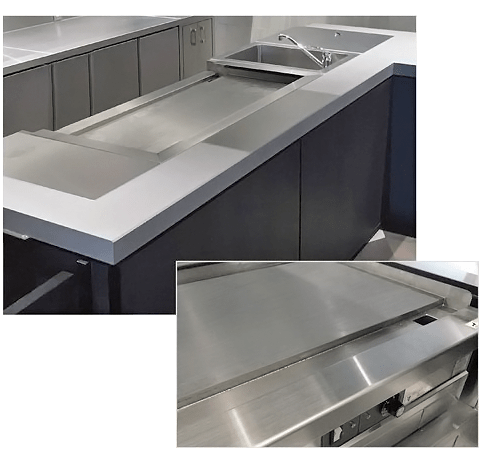 This is a countertop griddle that can be positioned to accommodate various kitchen sizes. The griddle plate thickness is customizable to suit your needs (standard thickness: 19 mm),
and the plate's heat storage capacity helps minimize temperature drops. Choose between digital and analog controls to adjust the temperature.
Countertop griddle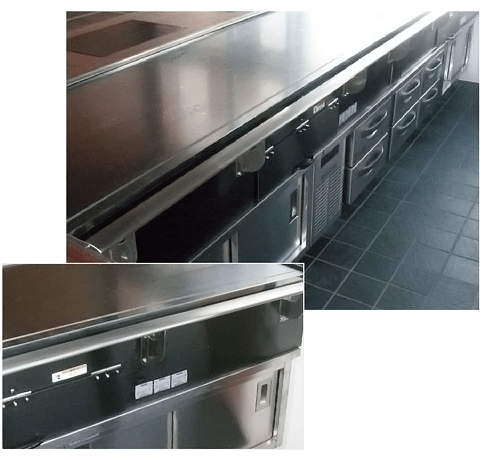 This countertop griddle can be installed on a cold base or cabinet. It offers excellent work efficiency, as food and tableware can be taken out on the spot.
Airflow fan griddle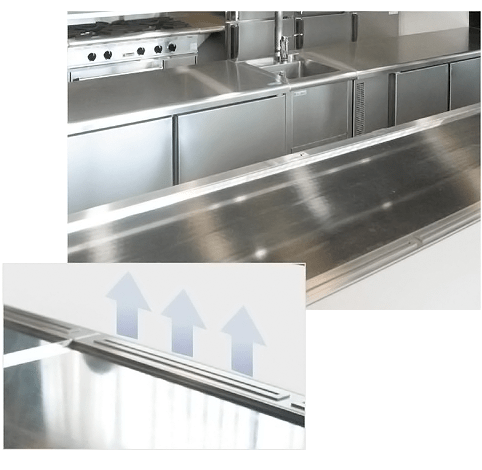 When preparing food in front of customers, the airflow fan creates an air barrier between the griddle and the counter, preventing exhaust, heat, smoke, and cooking oil splashes from reaching customers' seats. This design helps to ensure a comfortable eating environment for customers.
Inquiries relating to this product
For queries and consultations relating to the Custom Made Teppanyaki Griddle, please use the online form.