Lineup
A multifaceted series
to handle a variety of uses and plans

In addition to the Compact Series, which is mainly suited to small-scale restaurants and facilities, it includes the Standard Series, which can be used in larger scale establishments; the Long Series, which is ideal for food factories and high-quantity cooking facilities; and the Jet Oven for Pizzas, which is perfect for its specialized function.
Table of series as they apply to business types and categories*
For Pizzas
Standard
Long
Compact
Italian restaurants
Pizza delivery shops
Restaurants
Cafeterias
Japanese-style pubs
Confectionery stores
Lunch box/deli item stores
School lunch facilities
Hospitals/retirement homes
Wedding venues
Hotels
Food factories
Deli item factories
Confectionery factories
Seafood processing plants
Catering facilities
* The suitable series and model of Jet Oven varies depending on the dish and the number of food items being provided.
 For details, please contact a fujimak sales representative.
The Jet Oven Lineup
① Standard Series
This is our standard model and handles a wide range of dishes. Customers can choose the conveyor width (457 mm/812 mm), heat source (gas/electric), and whether to include the steam function. We also provide twin conveyor models.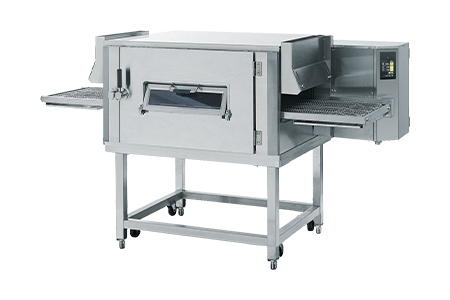 ② Compact Series
Width: 1360-1400 mm. The compact design of this series is compatible with smaller spaces. Customers can choose between gas and electric models, and a low-radiation gas model (single conveyor/gas) that prevents the ambient temperature from rising.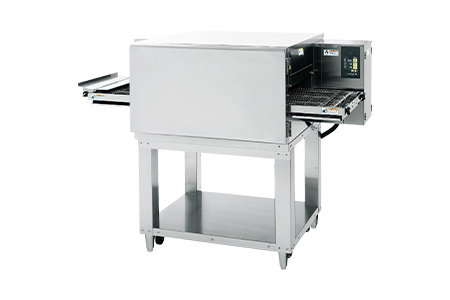 ③ Jet Oven for Pizzas
This Jet Oven comes with the ideal settings for cooking pizza, including the positioning of the finger nozzles and the amount of heated air that they emit.
④ Long Series
With a greater distance over which foods are heated in the oven, this series has a higher per hour processing speed. It is ideal for facilities where cooking is undertaken in high quantities, such as food factories, factories producing deli items, seafood processing plants, and school lunch facilities. Customers can choose between models with either one, two, or three heating modules. When requested, it is also possible to further increase the number of modules.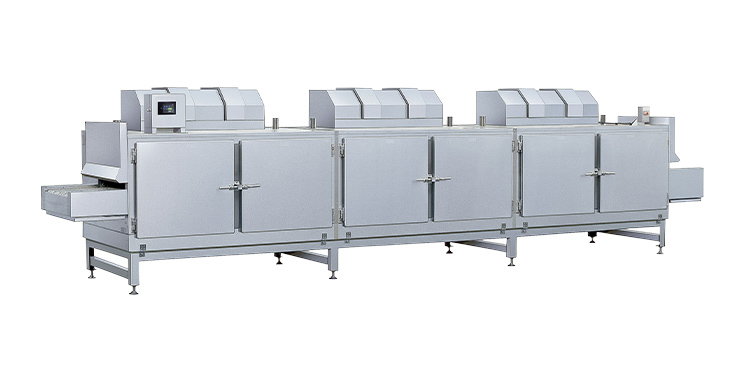 A range of optional extras and system expansions responding to a wide variety of needs.
── Optional Extras ──
Steam Function (Steam Models)
Through being connected to an external boiler, steam models (model numbers ending in S) enable cooking with heated air that contains steam. Users can switch between three levels for the amount of steam, enabling adjustment to match individual dishes. A fluffy cooking finish can be obtained for dishes such as omelets.
* The model itself does not produce steam, so a boiler is required (sold separately).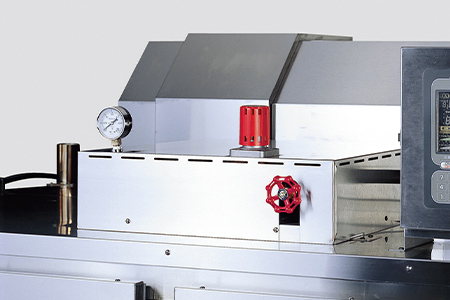 Energy-Saving Mode
As an optional extra, the Jet Oven can be fitted with an energy-saving mode to reduce heat loss when the oven is on standby and to consume less gas or electricity. Halving the blower speed reduces heat loss from the openings to the oven and stopping the conveyor reduces the amount of heat radiating from the conveyor net. Also, by reducing the temperature inside the oven when it is on standby, it is possible to reduce wasteful energy consumption. Use the ECO key on the touch panel to switch to energy-saving mode.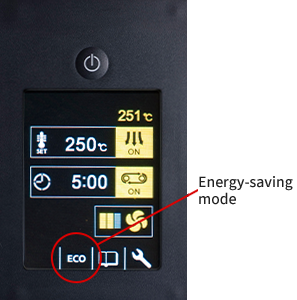 Tray Loader System / Return Conveyor
This provides a system that contributes to labor saving when cooking large quantities of food with the Long Series. The tray loader system is a system that automatically loads and removes pans and grids. The return conveyor is a conveyor that automatically returns used pans and grids to the oven opening for loading.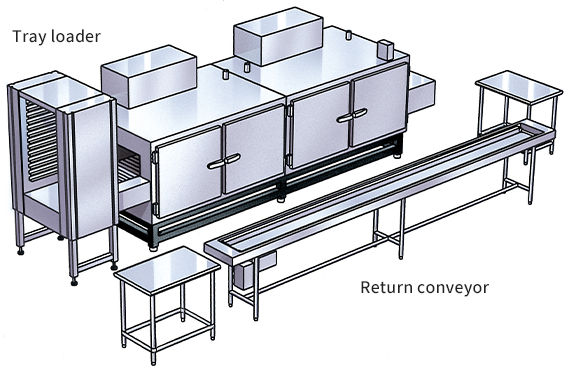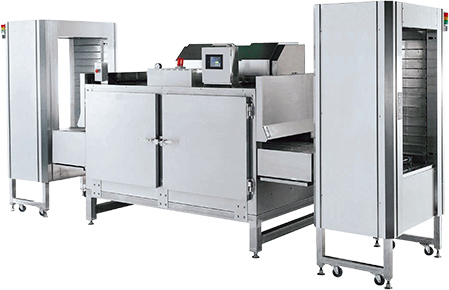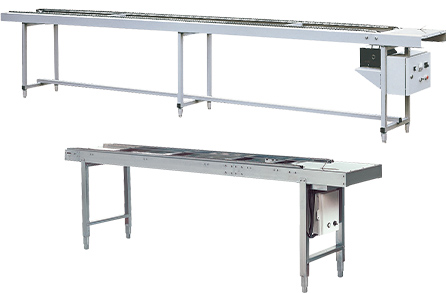 ── System Expansion ──
Jet Oven + Far-Infrared Burner
This combines the conveyor with radiation heating from a far-infrared burner. Because foods are heated while being moved along the conveyor, a uniform and stable baked color is applied to their surface, giving a crispy finish. By linking with a Jet Oven with steam function, it is possible to close in on textures where the surface of the food item is crispy and aromatic, and the inside is moist and juicy.
Jet Oven + Sauce Applicator + Jet Oven (+ Oil Coating Roller)
Linking the sauce applicator with the Jet Oven realizes a continuous process of grilling unseasoned rice balls, spraying them with sauce from above and below, and grilling them again to a finish. If the oil coating roller is added to the process before the first, unseasoned grilling, it is possible to prevent the rice balls from sticking to the conveyor. This is also suitable for menus such as the Japanese grilled seafood dish kabayaki.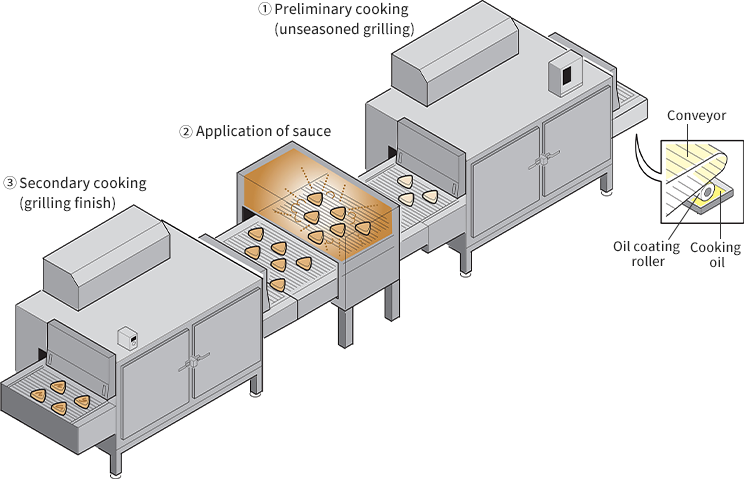 Bespoke Arrangement of Multiple Linked Devices
Depending on the required cooking operations and processing capabilities, it is possible to link multiple Long Series models together for creating the necessary bespoke arrangement. It is also possible to create heating equipment for use in high-volume cooking by using a direct-flame burner instead of jets of heated air. We can create specialized production lines, so feel free to contact us at any time.
A More In-Depth Introduction
to the Attractions of the Jet Oven
Inquiries relating to this product
For queries and consultations relating to the Jet Oven,
please use the online form.