A chocolatier that projects the aesthetics of "LESS IS MORE"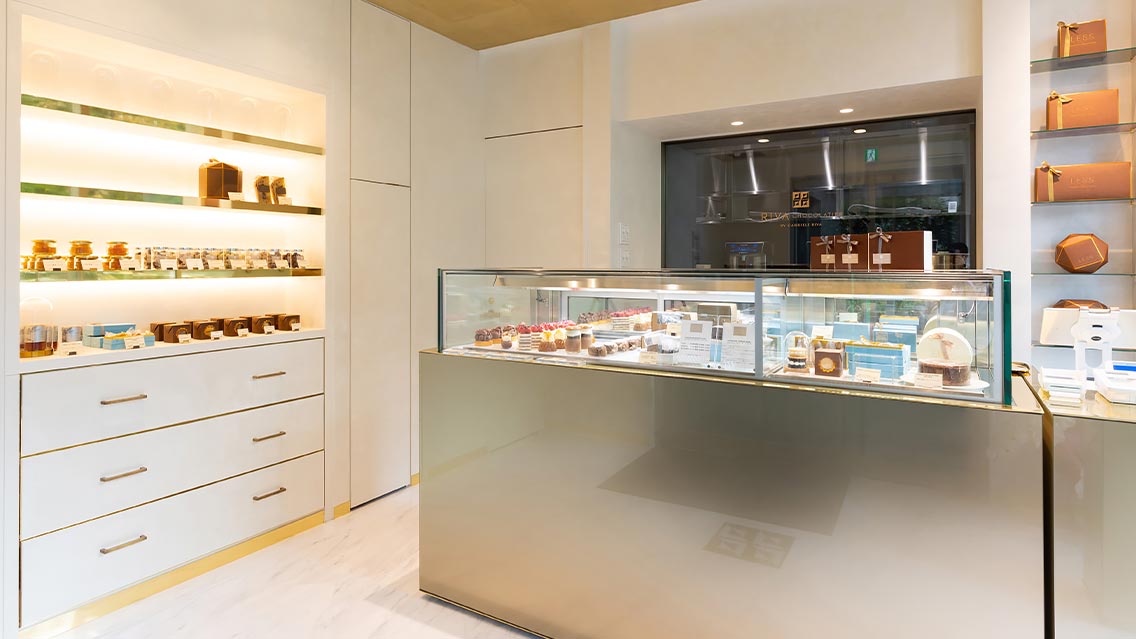 In addition to arranging chocolate sweets and fresh sweets in a refrigerated showcase, we also sell gift items. The other side of the glass window is the atelier
The patisserie "LESS" opened in 2019 through a partnership between Chef Gabriele Riva from Milan, Italy and Kanako Sakakura, an up-and-coming chef who has won numerous awards at international dessert competitions. In July 2022, "RIVA chocolatier", where the two are the owner chefs, opened near this store. It seems that more and more fans will be fascinated by the simple and original chocolates and fresh sweets created by the aesthetics of "LESS IS MORE" and the sensibility of the couple.
Projecting the aesthetics of LESS IS MORE into chocolate making
LESS, a patisserie in Ebisu, Tokyo, opened in 2019 near Ebisu Garden Place through a partnership between Chef Gabriele Livas from Milan, Italy, and Kanako Sakakura, an up-and-coming Japanese pastry chef. The store name comes from the sayings "LESS IS MORE" and "LESS BUT BETTER", which express the richness that comes from thoroughly stripping away waste. Traditional baked confectionery such as Panettone (a fermented baked confectionery with dried fruit), which is a specialty of Chef Gabriele, and sophisticated cakes have been well received. And it became a presence recognized by many people as a famous sweets store.
In July 2022, Chef Gabriele and Chef Sakakura will open "RIVA chocolatier" less than a minute's walk from "LESS". Seasonal fresh sweets such as cakes that were popular at "LESS" are also lined up in the refrigerated showcase.
"'RIVA chocolatier' is a chocolatier developed under the concept of 'LESS IS MORE', just like 'LESS. The opening of a chocolate specialty store is a surprise to customers who have patronized 'LESS'. When you think of a chocolatier, you may not think of a boutique with lots of small bite-sized chocolates, but what I deliver is chocolate and fresh sweets made by a pastry chef," says Chef Gabriele.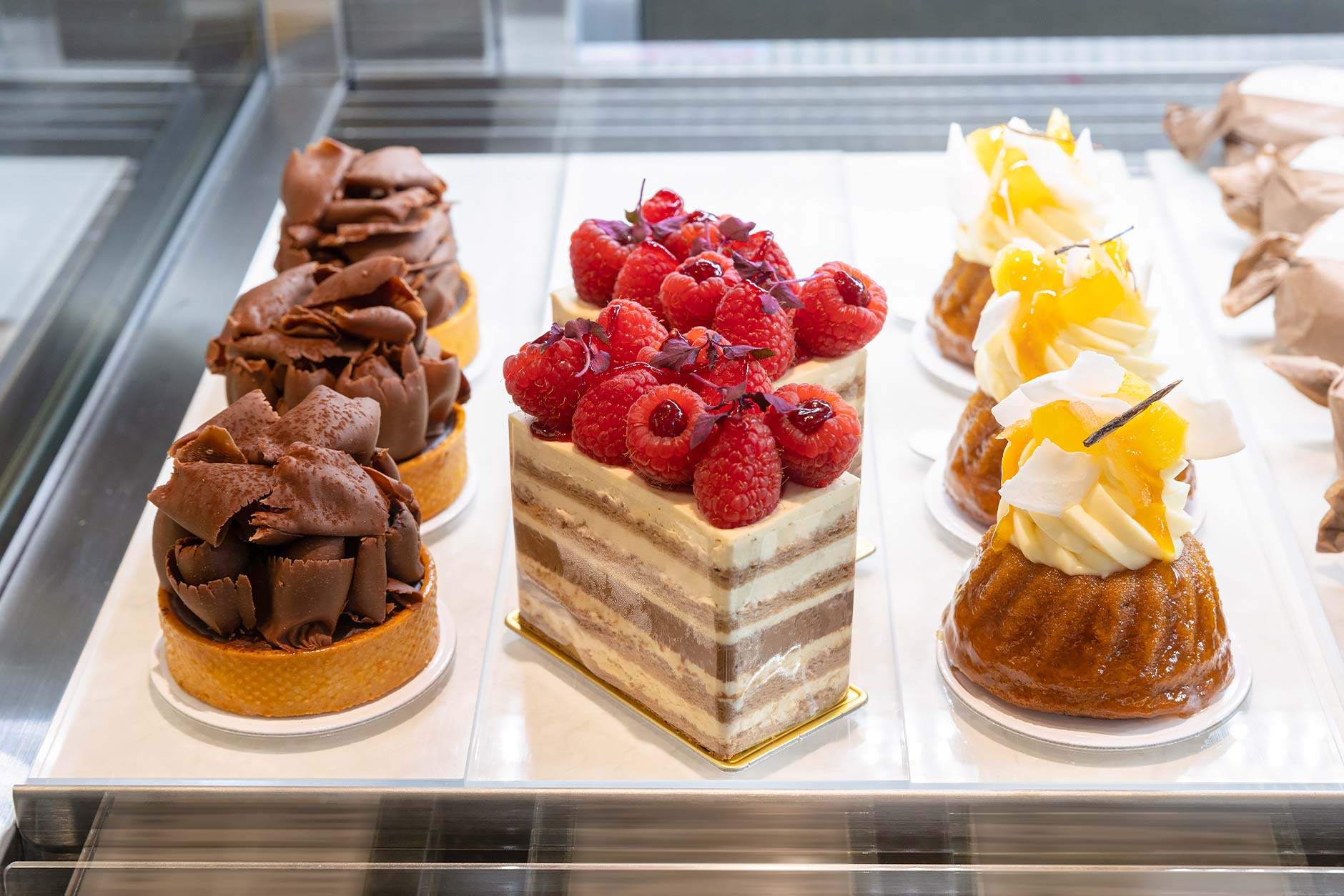 From the left, "DOMORI CHOCOLATE TART (Venezuela chocolate caramel ganache tart)" 975 yen, "EARL GRAY SHORT CAKE (Earl Gray short cake)" 1080 yen, "CARROT & PINEAPPLE CAKE (carrot cake & pineapple sauce)" 865 yen, All prices include tax.
Chefs with different backgrounds work together to create new sweets
Creative pastry chef Gabriel is in charge of product ideas and recipes. He himself studied confectionery at CAST Alimenti (National Culinary Science and Technology Center) in Italy, and after working at a pastry shop in Milan, Italy, he has been involved in consulting in Europe and the United States. He has also served as the USA ambassador for the French premium chocolate brand "Cacao Barry" for seven years. In "LESS", he spread Panettone, a famous confectionery in Milan, where he is from, to Japan. As the next development, they decided to set up "RIVA chocolatier", which is fully equipped with a chocolate atelier, and to start providing chocolate and namagashi in earnest.
Chef Sakakura, who has won awards at international dessert competitions and has worked as a pastry chef at Michelin-starred restaurants, is in charge of finishing the fresh sweets while also taking on the role of producer. "My main role is to bring out Chef Gabriele's pastries in a style that is easy for Japanese customers to accept. And I adjust the portion, consider the shape, and wrapping suitable for Chef Gabriele's work." (Chef Sakakura).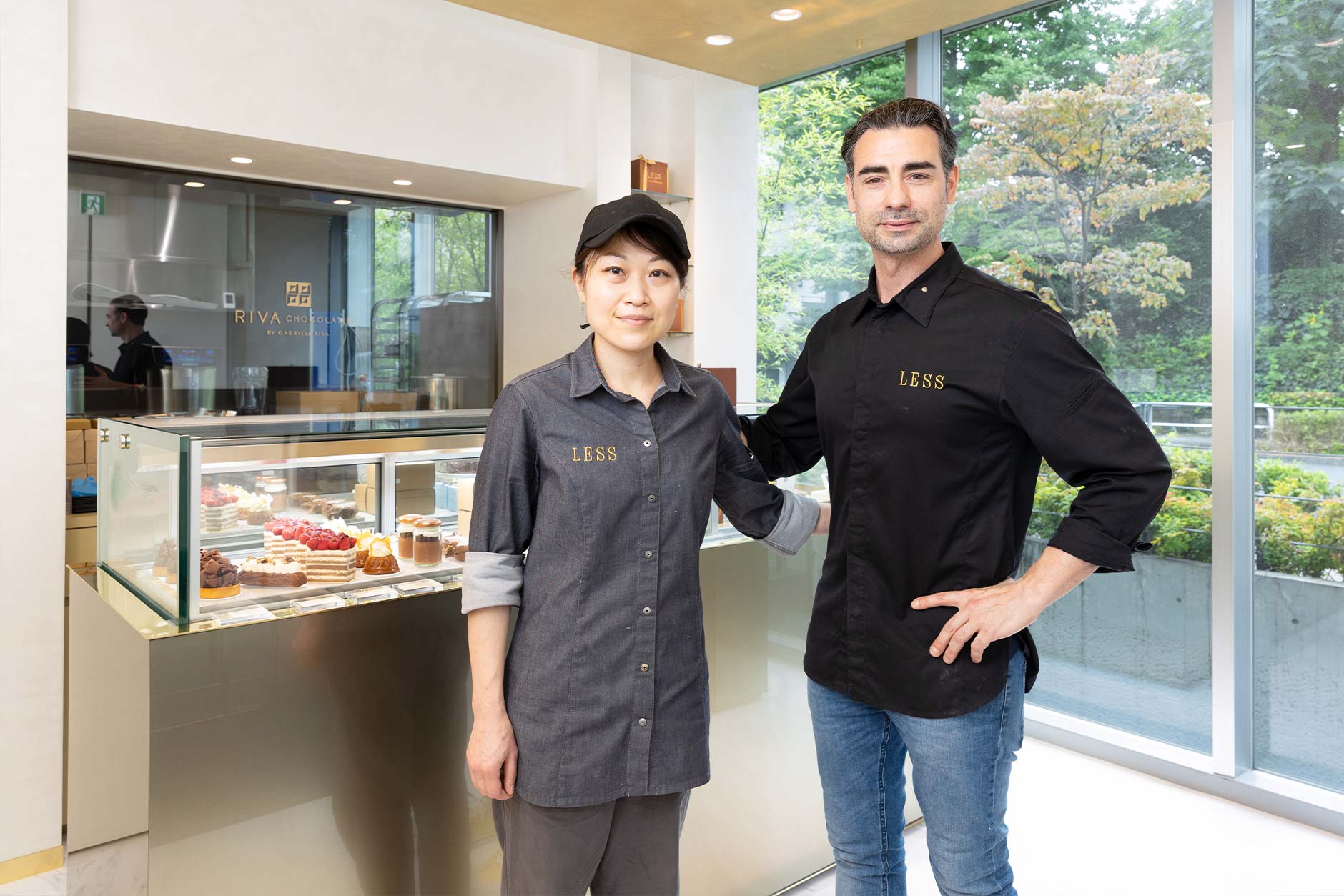 Chef Gabriele Livas (photo right) and Chef Kanako Sakakura (photo left). From now on, "LESS" will mainly sell panettone and baked sweets, and "RIVA chocolatier" will handle chocolate and fresh sweets.
"If you make a request, you will receive a proposal based on experience."
Chef Gabriele and Chef Sakakura built the plan for the RIVA chocolatier atelier based on the concept of LESS IS MORE. "We wanted to make the most of the limited space while creating a comfortable place for working staffs. For that reason, a high level of design was extremely important," says Chef Sakakura.
"RIVA chocolatier" uses many fujimak products. These include combi ovens, chillers/freezer and cabinets for storing chocolate products. "If there is a protrusion like a handle on the refrigerator door, or if there are parts of a different color mixed in, it will be visible and distract from our concentration. fujimak chiller/freezer has a flat design with no handles, and straight lines come out neatly," said Chef Sakakura, explaining why she chose fujimak products.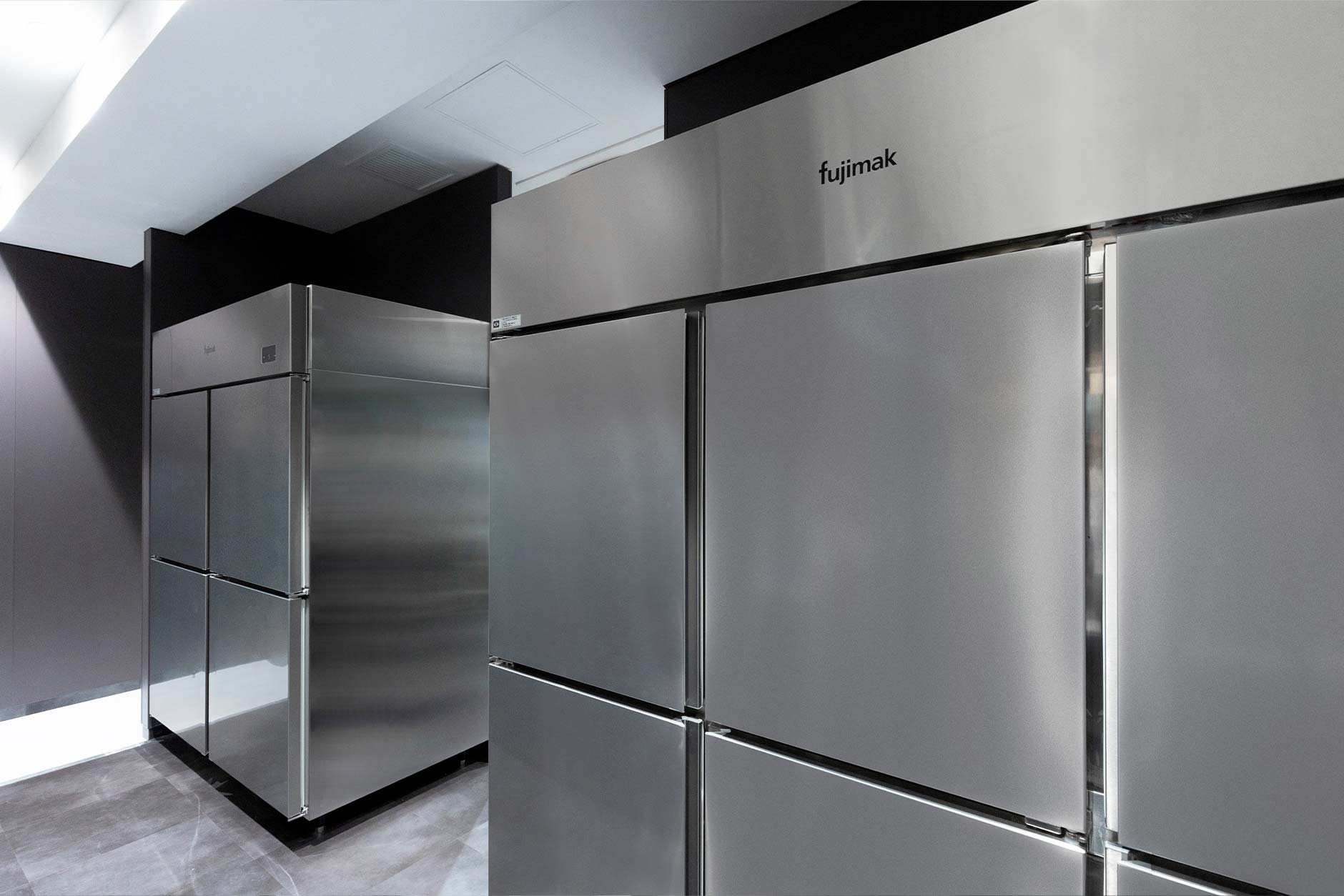 In addition to large refrigerators, table-type refrigerators and freezers are also available.
The storage cabinet for chocolate products is a special order item for "RIVA chocolatier". "We specified the width and height of the drawers in detail. In response to our request to have as many drawers as possible, fujimak not only increased the number of drawers, We received suggestions based on experience, such as 'Isn't it easier to deliver?'. We made fine adjustments while communicating with each other to get the best condition. The fujimak person in charge responded to minor questions and requests. He is also polite, and even if we had a problem, he would stay with us until we solved it," says Chef Sakakura.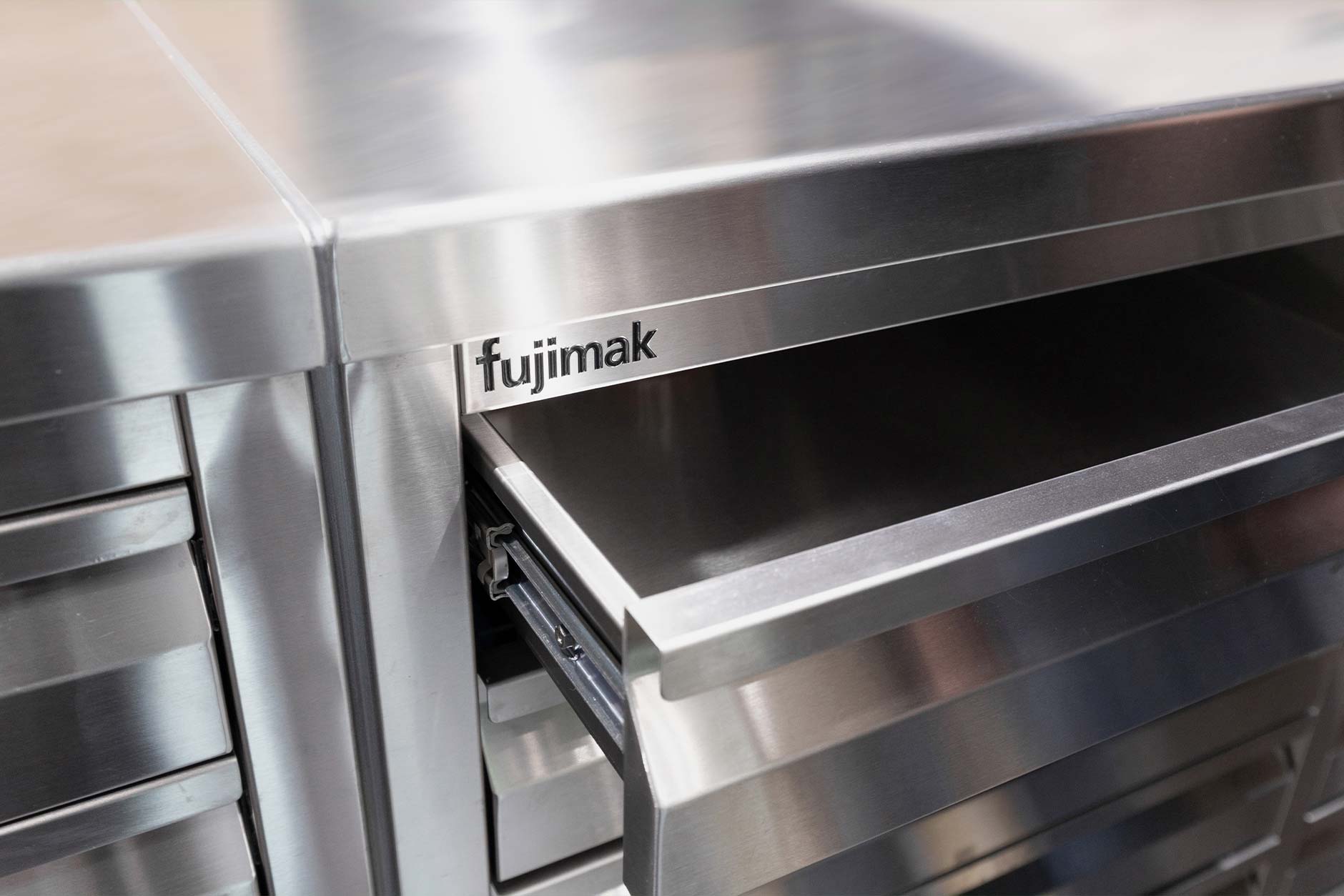 Cabinet ordered for chocolate storage. It is an under-counter type that allows you to work on the top plate.
I want to increase opportunities for customer satisfaction
The big problem for the two who opened the chocolatier was not only the corona crisis, but also the hot and humid climate unique to Japan.
"I have to say that the environment for making chocolate is more severe than in France. Nonetheless, with the opening of the chocolatier, we have a wide range of products that can meet the demand for gifts such as Valentine's Day and Christmas, and we are pleased with our customers. We are sure that there will be more opportunities to receive them, and we would like to gradually increase the variety of products that we deliver while making compromises with various conditions," says Chef Gabriele.
Chef Sakakura also said, "The opening of our chocolatier has expanded the possibilities for us to demonstrate our creativity and skills. We want to expand the range of what we can do at the two stores without rushing." It seems likely that gem sweets that reflect the aesthetics of the two will be lined up one after another in the "RIVA chocolatier" showcase.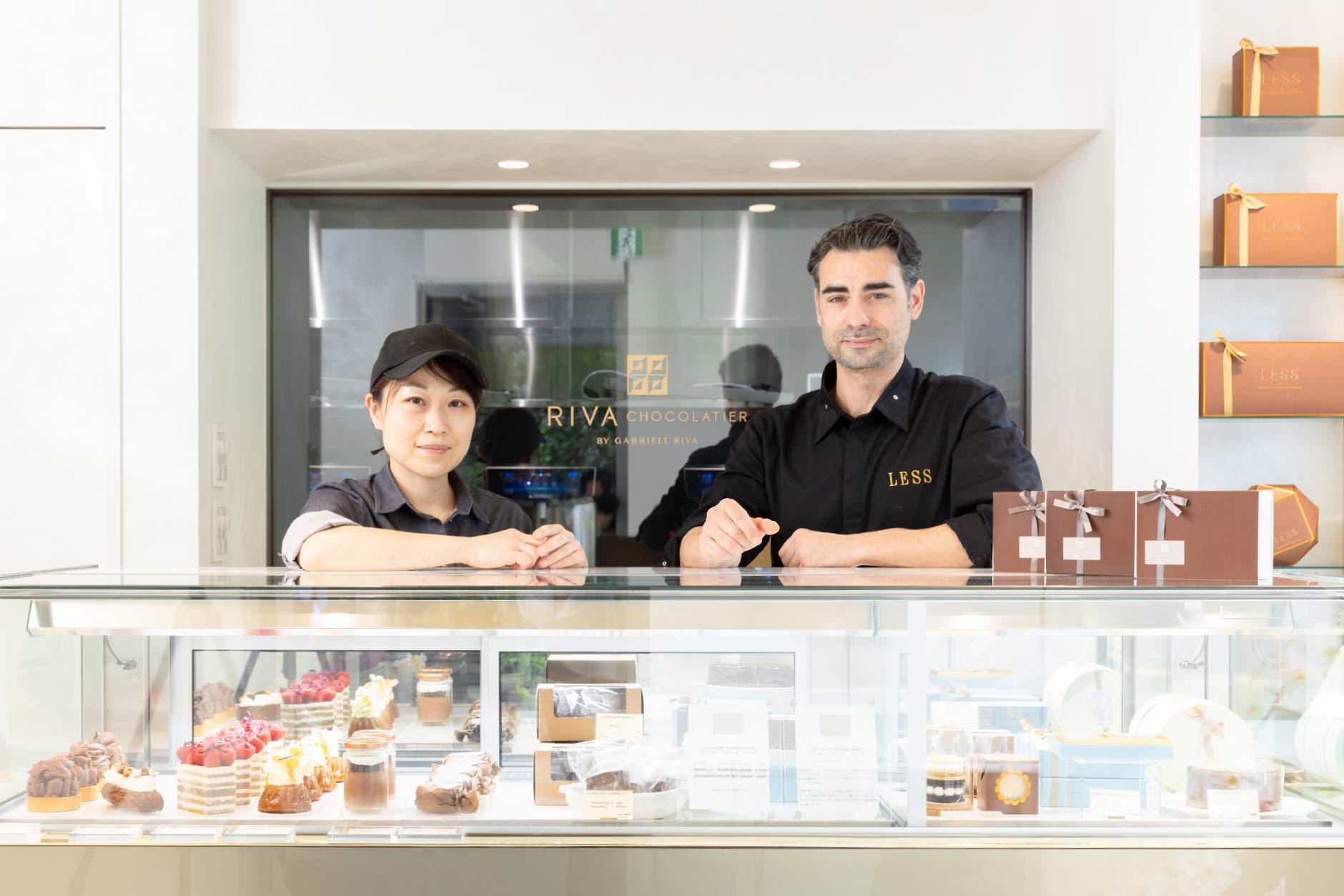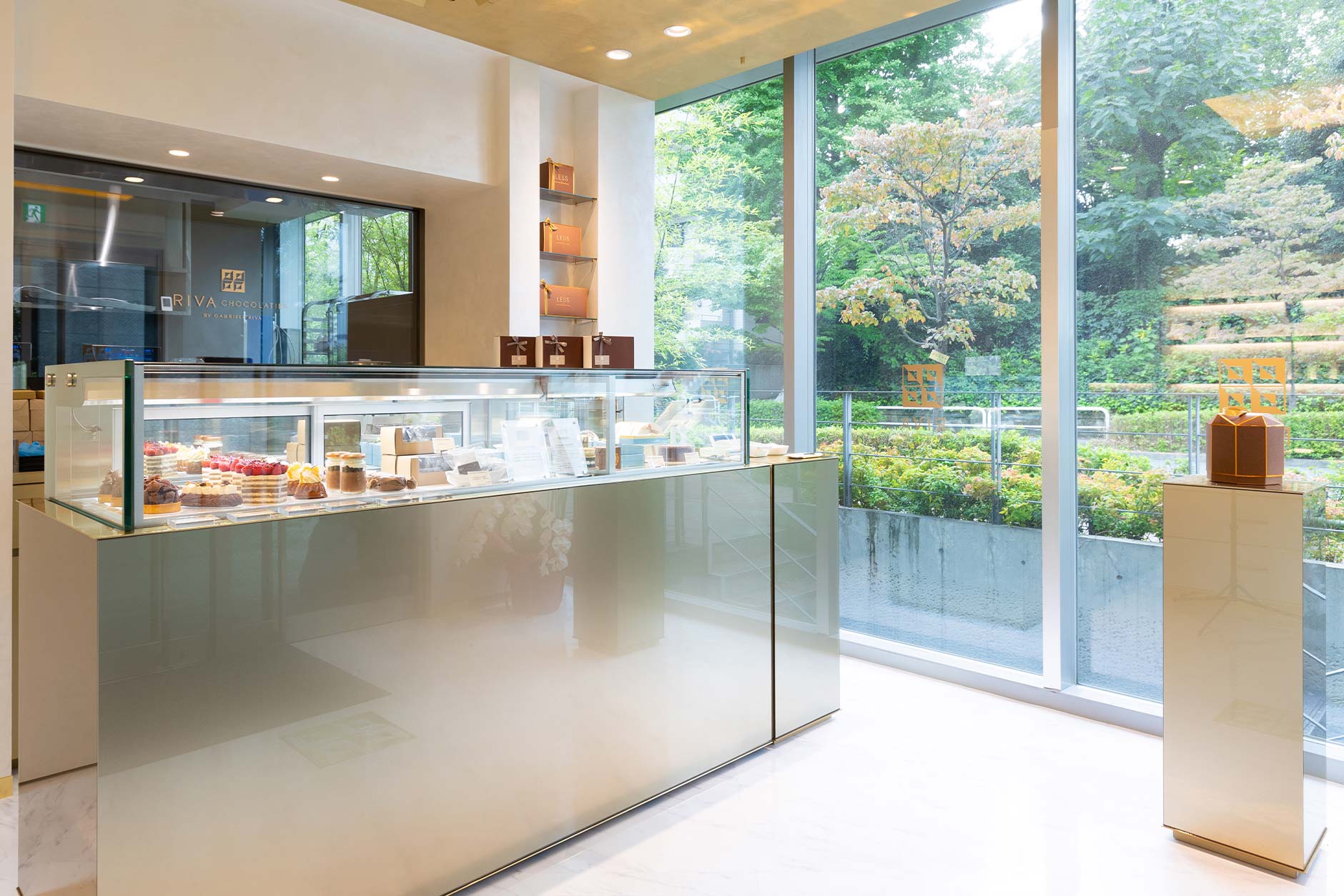 | | |
| --- | --- |
| Facility name | RIVA chocolatier |
| Location | MT3 Building 1F, 1-12-24 Mita, Meguro-ku, Tokyo |
| Open | July 2022 |